Indica In Decay - ACT ONE (cassette + zine bundle PRE-ORDER)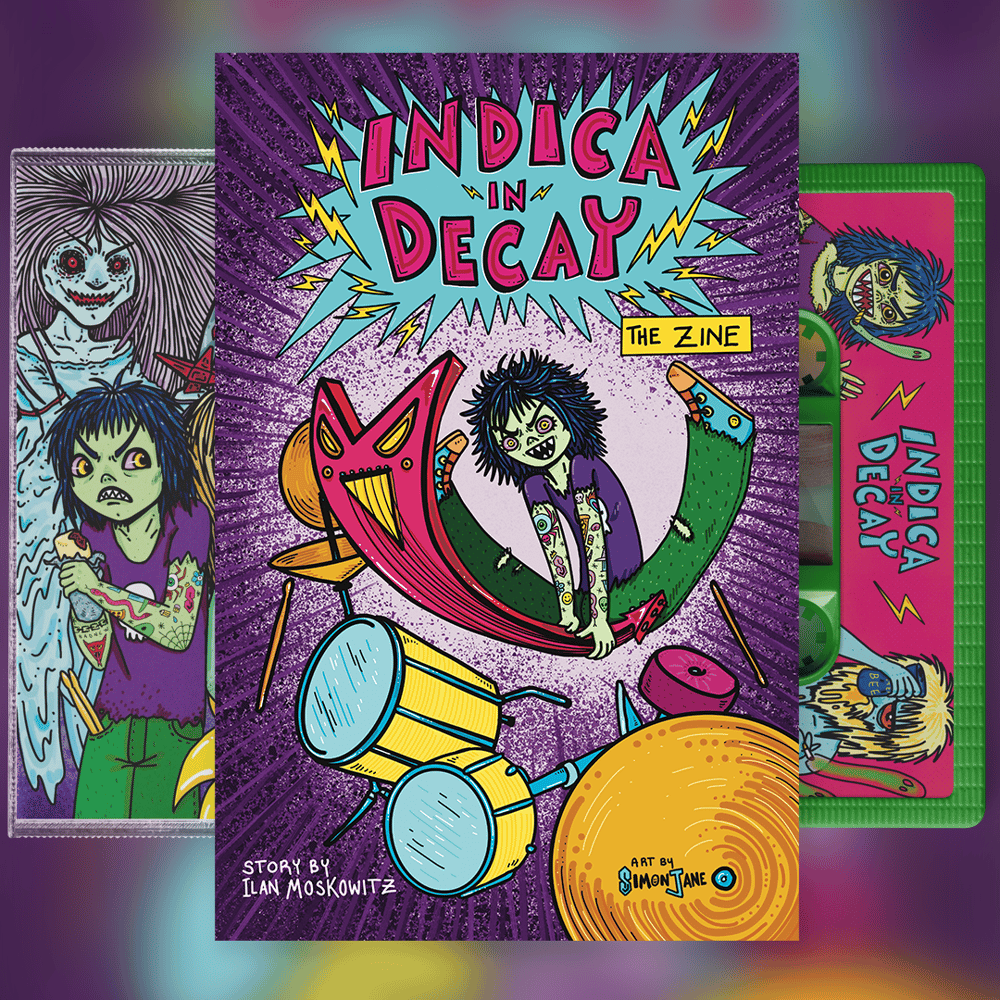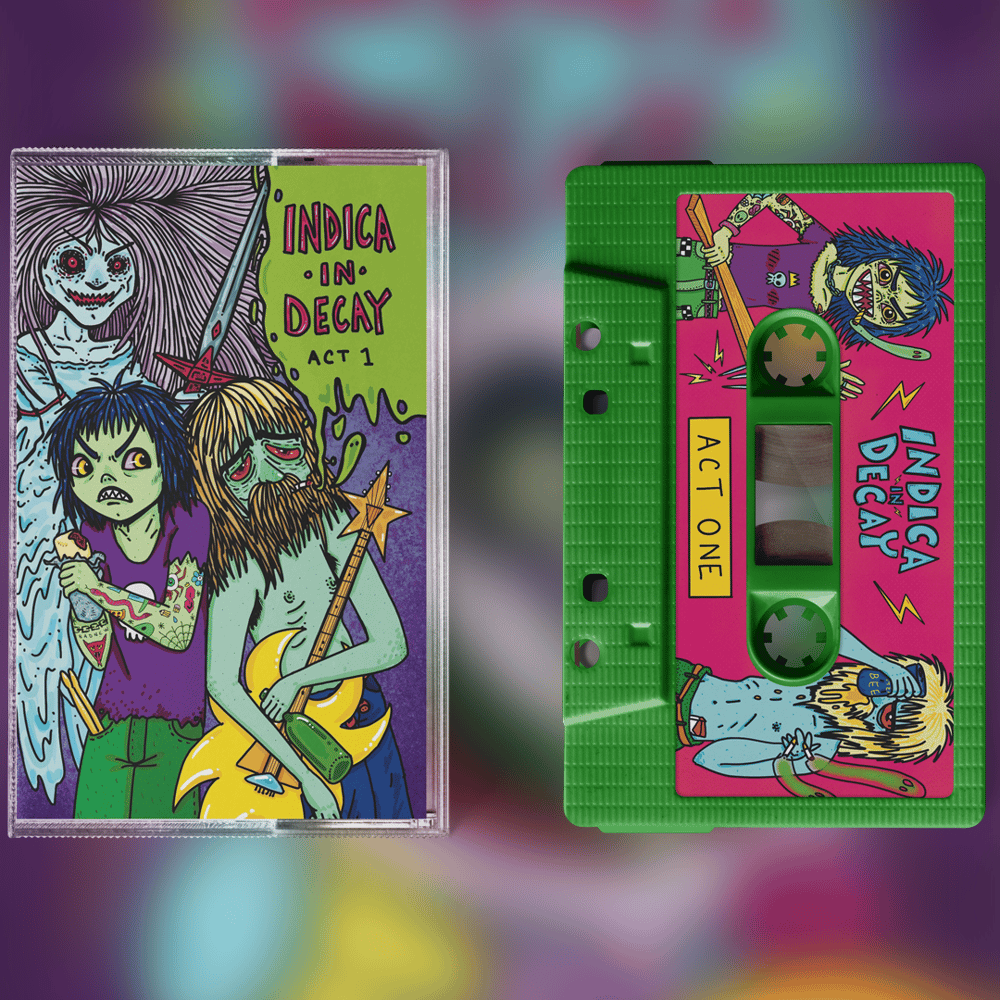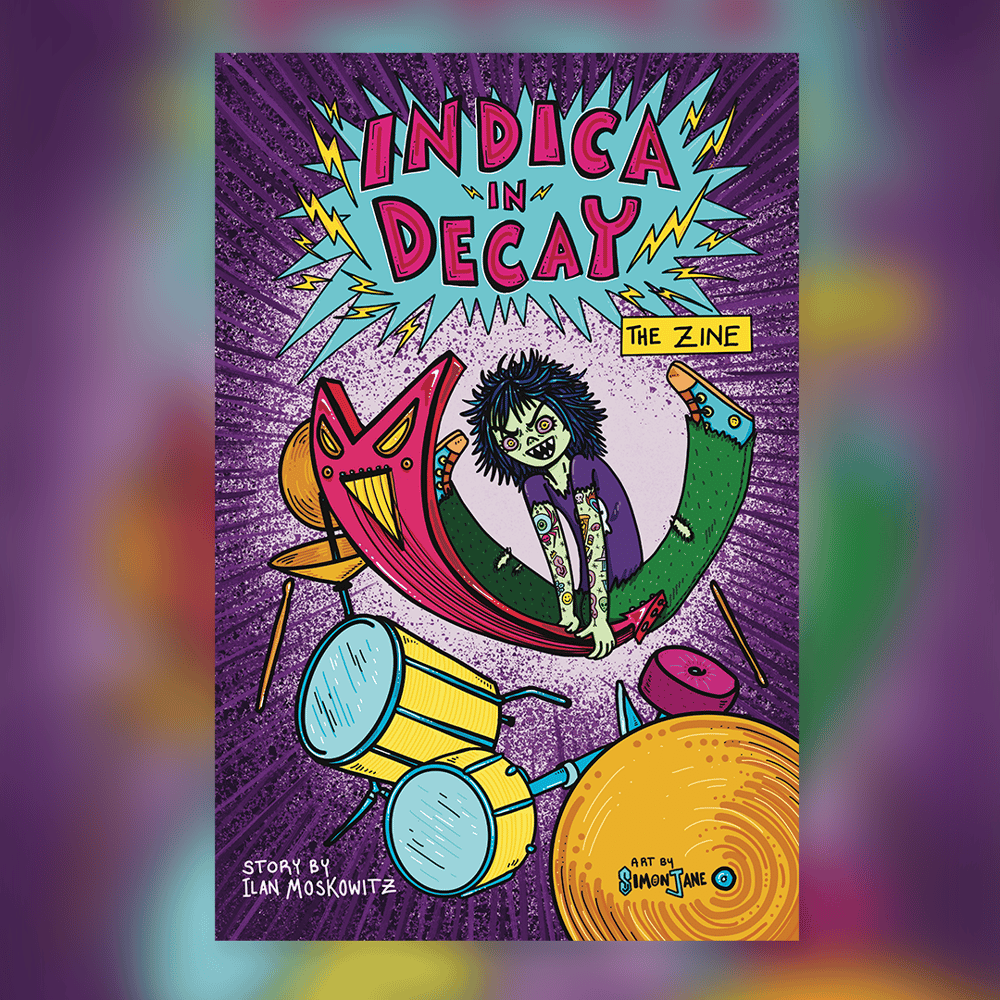 *THIS IS A PREORDER THAT WILL SHIP IN AUGUST*
Indica in Decay is an ongoing synth rock opera from Ilan Moskowitz of Sad Snack. Live performances are solo, like a folk punk set on analog synths and drum machines, with ironing boards for stands. The Indica In Decay music videos are like Troma Films shot by Spike Jonze, with story art like if FLCL was a 90's Nicktoon.
Indica In Decay stars Indica, a wannabe musical superstar. She gains a magic guitar through a former frontman/lover's suicide and its power to write perfect music unlocks her dreams. Simultaneously, it pits her against a new, twisted, sentient songwriting A.I., as well as all the other desperate wannabes who wish to possess Excalibur and live out their glory!
ACT ONE of the Indica In Decay, a five scene EP with new remixes from Eichlers and more!) is available through Ska Punk International, with a companion zine by Fake Publishing Millionaires, featuring vibrant new art from Blue Hare Comix.
Indica In Decay's ACT ONE is available on slime green cassette. The bundle also includes an Indica In Decay zine with illustrated plot to this story's first act. Written by Ilan Moskowitz. Art by Simon Jane. Cassette features bonus remixes. Live cover song exclusively on cassettes.
FFO: Depeche Mode, Bomb The Music Industry, Eichlers, They Might Be Giants, New Order, Sad Snack
Limited to 50 tapes!
Side A:
15 YEARS OF MOPWATER //Act One::Scene One//
NO OASIS COVERS! //Act One::Scene Two//
PRACTICE SPACE GHOST //Act One::Scene Three//
COULDA, SHOULDA, WOULDA //Act One::Scene Four// (ft. Sad Snack, Eevie Echoes, Musicubes)
FAST FOOD RADIO DJ //Act One::Scene Five//
Side B:
PRACTICE SPACE GHOST (Eichlers Remix)
NO OASIS COVERS! (Hexadecibel Remix)
BRICK BY BEN FOLDS (ft. Sad Snack, Live at The Complex)
SPI-032